The Logitech M220 and the Logitech M221 are compact silent mice that are exactly the same in specification and design. And so many people are confused about why both models exist and whether there is any hidden difference between them.
In this article, we'll look at the differences and similarities between Logitech M220 and Logitech M221 and figure out which one is better.
To start with, let's see how these two compare in terms of DPI, battery life & charging, connection,  weight, price, and more.
M220 vs M221: Quick Comparison
Logitech M220

Ambidextrous
2.4 GHz Wireless Connection with Nano Receiver
1000 DPI Sensor Resolution
Logitech Advanced Optical Tracking
Overall Dimensions: 3.89" X 2.36" X 1.53"
(99mm X 60mm X 39mm)
Weight: 2.65 Oz (75.2 g)
Battery Life: 18 Months
1 X AA Non-Rechargeable Battery
Silent technology
Available in the North American market

Check Price
Logitech M221

Ambidextrous
2.4 GHz Wireless Connection with Nano Receiver
1000 DPI
Logitech Advanced Optical Tracking
Size:3.89" X 2.36" X 1.53"
(99mm X 60mm X 39mm)
Weighs 2.65 Oz (75.2 g)
Battery Life: 18 Months
1 X AA Non-Rechargeable Battery
Quiet mouse
Sold in international markets

Check Price
Logitech M220 vs M221: Differences
DPI
A 1000 DPI resolution sensor is present on both the Logitech M220 and M221 providing smooth and precise tracking
The tracking speed is fine only for up to 2K resolution monitors. If you have a 4K or above size monitor, you'll feel the tracking to be pretty slow.
A mouse with 3000 or more DPI resolution will do a better job in case you want to work on such high-resolution screens
Battery Life and Charging
The battery life on both the Logitech M220 and the M221 is 18 months which is more than enough for most users.
You can be assured that they'll run a very long time without needing a replacement given that you use good quality non-rechargeable AA batteries
The in-built power-saving mode is present on both these devices helps save power by putting them into standby after a period of inactivity.
Connection
Both the devices come with a USB nano receiver and the tethering is made over a 2.4 GHz connection.
The signal on both mice is excellent and tracking continuity is consistent.
Although you probably won't be using your mouse that far away, just in case you happen to, both mice have a working radius of 30 feet.
Silent Plus Technology
Logitech's 'Silent Plus' technology refers to a feature that reduces the click noise that comes out when clicking by around 90%.
Although, that 'click' sound is a good way of providing tactile feedback to know if actually gave an input or not, it becomes very annoying especially when you are surrounded by multiple computers nearby. 
The important factor of this feature is that the loudness of the click sound is greatly reduced without losing the familiar 'click' feel.
Both the Logitech M220 and M221 come with this "Silent Plus" technology and it works brilliantly on both the devices.
Sensor
Logitech's Advanced Optical Tracking system is present in both the M220 and M221  featuring a tilted invisible light-based sensor providing more sensitivity.
The tracking on matte surfaces is excellent and even on semi-glossy surfaces, they're still workable.
But using them on glass is still not possible and you may need a laser mouse for that purpose.
Hand Orientation
Both the Logitech M220 and M221 are designed for ambidextrous usage.
The contours in both devices provide a comfortable hold and finger control. Both mice are very comfortable to use and you won't feel fatigued even with long hours of usage.
They may not provide that perfect fit that a right/ left-handed mouse may give but they're comfortable and make you not need them anyway.
Dimension and Weight
Both the Logitech M220 and 221 are considered small sized mice.
They provide a compact hold which is especially liked by kids and people with small hands. They are also super-portable and lightweight having a weight of just 2.65 Oz.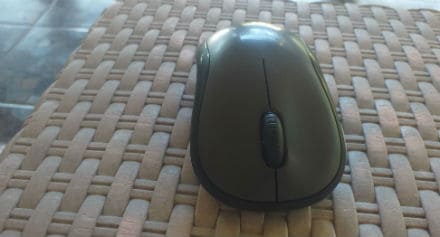 Price
Let's review the prices next. The Logitech M220 with its silent technology and advanced optical tracking has a very reasonable price tag.
Given its comfortable design, strong signal and battery life, it makes for a great value for money purchase.
The Logitech M221 is sold in many overseas markets and has a competitive price which makes it a great buy even in their respective markets. 
Logitech M220 Review
The Logitech M220 is a compact mouse that comes with interesting features like the Advanced Optical Tracking and Silent Plus Technology.
Being ambidextrous, the mouse is very comfortable to use for long hours with both left and right hand.
It is also a 'silent' mouse giving you a satisfying clicking experience.
The tracking is excellent over matte surfaces and the 1000 DPI resolution is sufficiently smooth for most monitor resolutions up to 2K.
Signal strength is excellent over a wide range of usage areas and remains consistent.
Carrying around the mouse also is very convenient due to its compact and lightweight construction. Plus, it's very affordable.
Logitech M221 Review
The Logitech M221 is basically the same as the M220 in all aspects except that it is sold in international markets and not in North America.
As with the M220, the M221 is a comfortable compact mouse with the basic functions- left, right, middle clicks and scroll.
The tracking is excellent on most surfaces except glass and glossy surfaces.
Although not specially designed for right or left-handed use and the ambidextrous contours definitely feel very comfortable for both palms.
The M221's Silent Plus technology makes it really wonderful to use by reducing 90% loudness of the annoying click sound without losing the 'click' feel which is very helpful.
To sum up, the Logitech M221 is a compact, reliable, and enjoyable mouse that won't disappoint.
Conclusion
The Logitech M220 and the Logitech M221 are exactly the same mice, the only difference being that the latter is offered only in international markets. 
Both devices offer a comfortable user experience for both right and left-handed users. Both mice have very useful features such as the 'Silent Plus' technology and 'Advanced Optical tracking'.
The connectivity and battery also are very commendable and are sure to satisfy most usage conditions.
Both the Logitech M220 and M221 are currently available in three colors – Black, Red, and Blue.
The Logitech M220 is available in the North American market at a very reasonable price given its many features and solid build quality.
The Logitech M221 is available in the rest of international markets and is priced very competitively in the respective countries which is great.
If you are in the US or Canada and looking for a compact, well built, and silent mouse, the Logitech M220 is the best choice for you. 
If you reside outside North America or are planning to buy for someone else abroad, the Logitech M221 is available at a very reasonable price and will prove to be a great buy.
In case, you look for a similar mouse design specially for right-handed use, then check out the Logitech M330 vs M331 review.