These two office mice are like twin sisters and it can be difficult to differentiate one from the other. In this article, we'll discuss the differences and similarities between Logitech M330 Silent Plus and Logitech M331 Silent Plus to find out which mouse is better.
To start with, let's see how these two compare in terms of DPI, performance, battery life & charging, connection,  weight, price, and more. 
M331 vs M330: Quick Comparison
BUDGET OPTION

Logitech M330 SILENT PLUS

Right Handed Use
2.4 GHz Wireless Connection with Receiver
1000 DPI Sensor Resolution
2D Mechanical Sensor
Overall Dimensions:
4.14" X 2.67" X 1.51"
(105.4mm X 67.9mm X 38.4mm)
Weight
3.2 Oz
(91.0 g)
Battery Life: 24 Months
1 X AA Non-Rechargeable Battery
Cheaper

Check Price

PRICIER

Logitech M331 SILENT PLUS

Right Handed Use
2.4 GHz Wireless Connection with Receiver
1000 DPI
2D Mechanical Sensor
Dimensions:
4.14" X 2.67" X 1.51"
(105.4mm X 67.9mm X 38.4mm)
Weight:
3.2 Oz
(91.0 g)
Battery: 24 Months
1 X AA Non-Rechargeable Battery
More expensive

Check Price
Logitech M331 vs M330: Differences & Similarities
DPI
Both the Logitech M331 and M330 have a sensor resolution of 1000 DPI which results in a smooth and quick hovering experience for regular office use.
It is when the screen resolution goes up and above 2K that you start to feel the slowness. 
These mice are not intended for gaming or creative editing work, in which case a mouse with a DPI in-excess of 3000 will be more usable.
Battery Life and Charging
Logitech claims a battery life of 24 months for both the M330 and M331 which is long enough to not be worried about battery replacement. 
Both these devices have a power-saving function which puts the mouse on standby after a couple of minutes of inactivity.
Keep in mind that both mice run on non-rechargeable single AA batteries.
Connection
Again the twins share the same connection technology which is a 2.4GHZ wireless connection through a nano-receiver. 
It gives a surprising working radius of 10m which is nearly 30 feet. Even real-life tests prove this to be true with the receiver being able to pick movement very accurately.
One would wonder whether anyone stays more than 5 feet away from their PC while working but just in-case you have to, these mice won't fail you.
Silent Plus Technology
The USP of the Logitech M330 and M331 is what they call "Silent Plus" technology which aims to reduce the level of click noise. 
You see, hearing a 'click' when you click is not at all a bad thing. It gives feedback to the user which is necessary to have a sense of whether the computer got your input or not. 
But that noise need not be as loud as it is with most mice. The noise is especially annoying when you work in an office filled with incessant mouse clicks.
These mice aim to relieve you of this annoyance by reducing the loudness of the click sound and at the same time maintaining the familiar tactile feedback at your fingertips. 
It works brilliantly on both the Logitech M330 and M331 and you'll feel the difference when you have a regular mouse beside you. 
Sensor
Logitech has used its trademark Logitech Advanced Optical Tracking technology on both the M330 and M331. 
The tracking is precise, smooth and leaves no room for complaints for use in an office environment.
But unfortunately, they do not work well on glass or other shiny surfaces. You'll definitely need to use a trackpad if you don't want to curse your mouse during work.
Hand Orientation
The M330 and M331 have a contoured design that is only suited for right-handed use. 
The contours on the body give a comfortable resting surface for your right palm and also space to work your fingers around.
The Logitech M331 differs from the M330 by offering a rubberized texture on the sides which gives a natural grippy feeling at your fingertips.
It's pretty much safe to say that they are among the most comfortable mice that you'll get at this price.
Dimension and Weight
Given their dimensions, these mice fall under the medium-sized category – not too compact for kids and not too large for resting your palms. The exact dimensions are 4.14" X 2.67" X 1.51" or 105.4mm X 67.9mm X 38.4mm.

At just 91g (3.2 Oz), both mice are easy to work with for long hours without feeling your wrists all fatigued.
Price
Although these mice virtually share the same spec sheet, they don't share the same price tag. You'll be able to get the Logitech M330 at a cheaper price than the Logitech M331. 
It is unclear why such a price difference exists. It could be that Logitech is charging a significant amount for adding a rubber grip on the M331.
Or, given that the M331 is an international version, one can speculate additional cost incurred for obtaining international regulatory certifications. 
Whatever the reason might be, we have the M330 priced significantly cheaper than the M331. 
Logitech M330 Silent Plus Review
The Logitech M330 is an office mouse with only 4 functions – 3 Clicks and a Scroll.
What sets this mouse apart from your regular ones is that this is a "silent" mouse.
The click sound that you hear from regular mice has been reduced by 90%.
Now you might be wondering that the click feel is down by that amount too. But that isn't the case. 
The engineers at Logitech seemed to have made a marvel by maintaining the same click feel while reducing the click noise to a minimum.
This is sure to give relief to a lot of office goers who cannot endure hearing a million clicks every hour.
The mouse is specifically designed for right-handed use and it definitely feels tailor-made for the comfort of your right palm. 
Overall, the Logitech M330 Silent Plus does what it claims to do as a silent and comfy office mouse.
Logitech M331 Silent Plus Review
The Logitech M331 is identical to the M330 virtually in all aspects except grip and price.
It has the same hardware and silent technology that perform equally well.
It has a rubberized texture on the side to enhance finger grip. The mouse being specially contoured for right-handed use feels perfect with the extra rubber grip which is lacking in the M330.
Unfortunately, this feature comes with a premium as the Logitech M331 is priced quite a notch higher than the M330.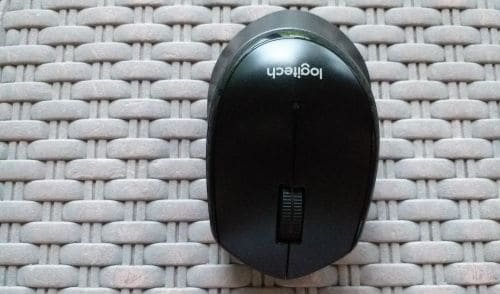 Conclusion
For regular office use, Logitech M330 and M331 are extremely comfortable, the tracking is precise and the connection is very stable even if you are sitting further than usual from your computer.
And on top of this is the Silent Plus technology which is a dream come true for many offices which are in a need for a more peaceful ambiance.
Logitech M330 or M331: So which one is better for you? 
Hands down, the Logitech M330 Silent Plus is a better choice if you are concerned about budget. It has all the bells and whistles of the M331 except the rubber grip and it comes with a significantly lower price tag.
If you don't mind shelling some extra buck, go for the Logitech M331. Although the addition of rubber grip seems like minor detail it makes a lot of difference in the overall experience.
So here it is, we've finally found the differences between the twin sisters, now it's up to you to decide who to go out with! Ciao!