MSN Video for Windows Phone 7 App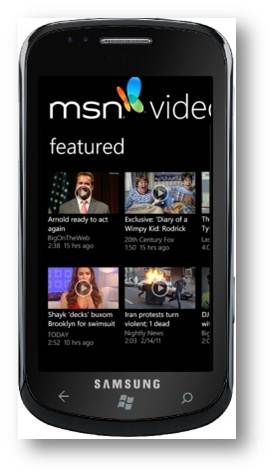 Available for download today, MSN Video for Windows Phone 7 is available for free. The application offers a huge selection of videos covering entertainment, news, sports, comedy, how-to and other popular categories.
The application lets you watch videos from special events, like the Academy Awards and Super Bowl, as well as several MSN Original programs, like Last Night on TV and Beauty BFF or browse videos from over 40 world-class providers, including: Access Hollywood, Animal Planet, CNBC, Consumer Reports, Discovery, FOX Sports, HealthDay, Howcast, Kiplinger's, MSNBC, Stupid Videos, TODAY and more.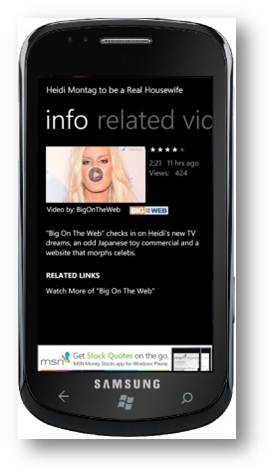 You can enjoy videos in full screen with the option to watch in high quality (HQ) for better resolution or turn off HQ for faster streaming. A great part of the application experience is that MSN Video is integrated with the Windows Phone 7 video + music hub so you can easily look in your history to find videos you've already watched.
The MSN Video app is free, but ad-funded with immersive and engaging ad experiences: pre-roll video ad units and mobile display banner ads.
Tags:
msn
,
videos