Applications these days eat up large resources and memory. Checking memory usage is important and is only good for your computer. I'm presenting you with details on four nifty tools that just serve the purpose of checking memory usage in Windows:
SysTrayMeter – Download
Requiring no installation, this little tool sits in the system tray and continuously checks and displays memory usage and CPU usage neatly. Memory usage is better conveyed with colour codes.
MemInfo – Download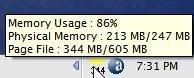 Once installed, MemInfo checks memory usage, and warns you when memory usage is very high. It also includes a memory defragmenter. It's just like SysTrayMeter for checking memory usage, but comes with a few customization options included.
Performance Monitor – Download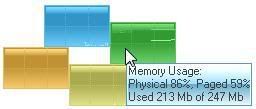 In addition to checking memory usage, this tool can also check disk and network usage. Working from the system tray, this tool shows you graphs on top of your screen indicating RAM, disk and network usage.
FreeRAM XP Pro – Download
A more complex and feature rich program this is. It's more than a memory monitor. It's one of the best tools available for optimizing your RAM for speed. Auto freeing of memory, logging, usage reporting, memory compression technologies are some of its best features.