Best Startup Managers for Windows XP
Many programs these days install themselves to the start up menu, slow down the windows starting up time, and make a lot of hassles. There also comes a threat of viruses and trojans occupying the startup list, and causing harm. So, you need a tool that is specifically made for managing startup programs to get rid of the unwanted.
So, here goes a list of the a few best freeware startup managers:
1. Startup Control Panel
This free startup manager installs itself as an applet in the Windows Control Panel, and has good features. You can manage your entire startup list, delete items from startup, and also let applications run only once on the consecutive startup. Download
2. Startup Run

Yet another simple startup manager utility, listing out all the programs that load on startup. You can, as always, edit, enable, disable, delete startup entries. Additionally, you can export the list to a html/text file. Download
3. Scott's Startup Manager
This one is much straight forward and does just the job. The simple interface lets you add, edit, delete startup programs. Download
4. Startup Manager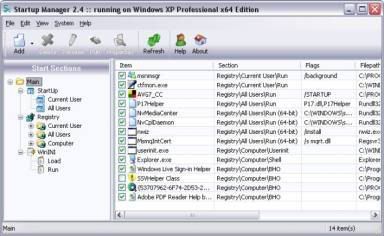 Another one, a bit more comprehensive than the above. This tool can be used to edit the Win.ini file that Windows uses to load settings on startup. Recommended for advanced users. Download
Did I miss out anything? Tell us in the comments.
Tags:
Freeware
,
Utilities
,
Windows
,
Windows Tips
,
Windows Tweaks